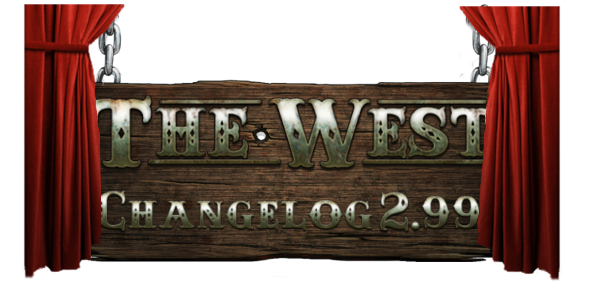 We are currently planning on applying the patch to
version 2.99 on Wednesday, April, 24th.
Please keep in mind and that the date, time and content of the patch are subject to change.

Valentines Event Items
From now on James B. Hickok's items are upgradeable and auctionable.
New Daily Quests
Every week you will have a chance to finish 2 new daily quests. To complete them, you must complete or win a fort battle.
The Rotten Eggs
Do you have 2 rotten eggs? Don't worry, you can exchange them. Waupee has a proposition for you.
Avatars from Dia De Los Muertos 2018
One of the avatar parts from last DoD Event was too big.
Friend invite message
You can write a personal message to invite your friend by mail. You get a small confirmation that the mail was sent at the top of the screen but the pop up window for sending a message is still open.
From now on the pop up window for sending a message will close automatically.
Scrape up your money
One of the quest requirement has been changed. Now, you should collect 250$ from the duels with NPCs.
Easy way to find the murder
In the very old questline "The murder" it was easy to find the murderer. We decided to make it a bit more difficult.
Chat
Improved URL detection in the chat. For example, parentheses will no longer be considered a part of the link when placed directly behind it.
2 New achievements
We have added a new achievement for obtaining 70 snowballs and an achievement for getting all Edison set items.

​
Joaquin Murrieta's set bonus
The aiming and leadership bonuses you receive by wearing 5 or 6 pieces have been increased by 0.1 per level.
Quest "Music band"

It was possible to finish the questline "Oktoberfest is coming" without finishing quest "Music band".
The old avatar parts from Day of the Death
It was impossible to use the item "Avatar part: skull" and "Avatar part: Black hat" which are supposed to grant the skull and hat as avatar parts.
If you wish to leave any feedback about this version, please leave a comment
here!
Thank you for playing The West!
Sincerely,
Your The West Team