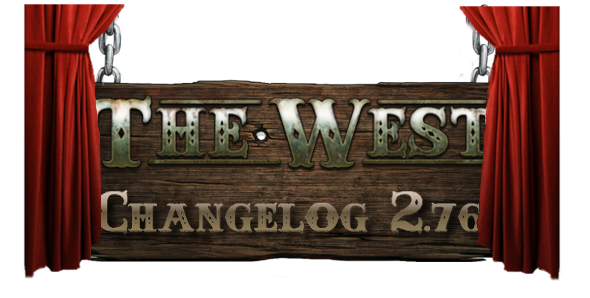 We are planning on applying the patch to version 2.76 on Thursday, May 3rd. Please keep in mind that the date, time and content of the patch may change.

​
Questline "Secrets of The West"
During the last ten years, our friends in Henry's saloon met many adventures and heard plenty of thrilling tales. But was that all? No! Henry has something peculiar he has never told you about. Visit him, find out more and experience another exciting adventure in the trails of the most mysterious stories and most closely guarded secrets of The West.
This questline is dedicated to the 10th birthday and consists of 15 single quests for all players who reached level 20 and completed the questline "Save the saloon, part 2". It will be available from Monday, May 7th.
Easter event sets
The items of the following sets are now auctionable, tradeable and upgradeable:
Henry Hooker's set
Little Britches' set
David C. McCanles' set
Questline "A strange animal"
The questline "A strange animal" was available exclusively in 2017. From now, the questline will be available every year, starting in 2019. However, please keep in mind that this questline is not repeatable.

​
"Message from a bunny"
The achievement "Message from a bunny" had no category.
Assiniboine's rifle
Assiniboine's rifle was missing a charisma bonus.
We hope you like the changes this update brings to the game. As always we are looking forward to your feedback!
Best regards
Your The West Team