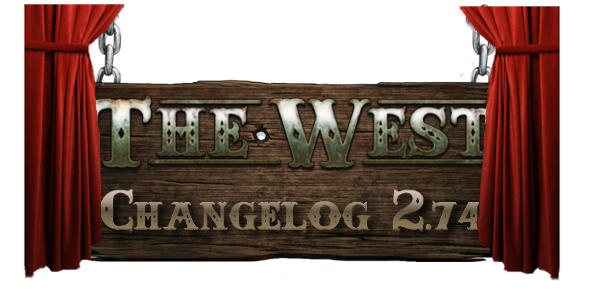 We are planning on applying the patch to version 2.74 on Tuesday, March 27th. Please keep in mind and that the date, time and content of the patch may change.

Travelling Fair
New collection cards have been added to the Traveling Fair's reward pool.
Reminder: The next Travelling Fair on your worlds will appear 7 - 20 days after the Easter Event has ended, which is on April 17th.
Higher Speed premium
We already had the medals for the classic 4 premiums, but we missed the 5th medal for higher speed premium. From now on, you can win the Higher Speed bonus medal among others in the Travelling Fair.
Easter event
Our annual Easter event starts soon. From March 27th until April 17th you will be able to duel and defeat our 4 bandits again, collect eggs and win brand new items.
Shortly before the Easter weekend starts you will be able to play our new Easter related questline. Help your friends from the Saloon prepare everything for a nice holiday.
More details will be given with the Easter event forum announcement soon.

Easter Egg Hunt
Mr Easter Bunny is going to visit your Town. Henry wants to win a town competition and receive the title of the best Easter host, but he doesn't have any idea how to prepare the event for Mr. Easter Bunny. Do you want to help him?
This questline contains 12 quests and is available for every player who has already finished the quest "Showdown (Save the saloon, part 2)".
When finishing this questline, the achievement "Prepare the best Easter for Mr Bunny" and the title "The best Easter host" are awarded.
Easter chests
The items from Easter event 2017 have been added to the Uncommon and Rare Easter chests.
Sullyvan's Set from the Valentine's event
Sullyvan's set is now auctionable and tradeable.

John Rolfe's items
This time items of John Rolfe's set changed their images. This has been fixed.
Gone with Valentine's day
The quest's locations were not available after March 3rd, but the quests were available until March 6th.
Wrong image paths on start page
Some images on the start page were not visible.
Christopher's parade
The level requirement of the Christopher's parade set items has been reduced to level 10 to match the requirement of the questline.
We hope you like the changes this update brings to the game. As always we are looking forward to your feedback!
Best regards
Your The West Team