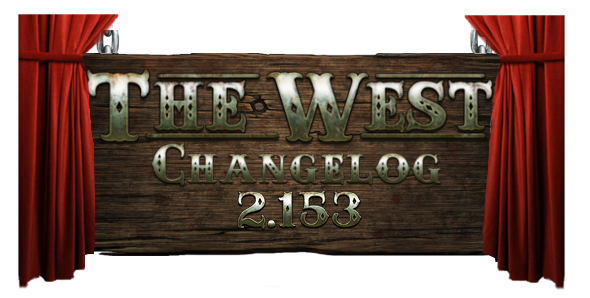 We are currently planning on updating the game to the version 2.153 on Tuesday, July 6th. Please keep in mind that the date, time and content of the update are subject to change.




Old head item improvements
Continuing our old item improvements, we have rebalanced some other older head items.

Icon
Name
New bonus

Grey forage cap

+0.01 Strength (per level)
+0.01 Dexterity (per level)
+0.01 Mobility (per level)
+0.01 Charisma (per level)

+0.46 Toughness (per level)
+0.46 Horseback Riding (per level)
+0.46 Setting Traps (per level)

Yellow forage cap

+0.02 Strength (per level)
+0.026 Charisma (per level)

+0.46 Vigor (per level)
+0.48 Hiding (per level)
+0.54 Leadership (per level)

Blue forage cap

+0.02 Strength (per level)
+0.026 Dexterity (per level)

+0.48 Health Points (per level)
+0.46 Shooting (per level)
+0.54 Repairing (per level)

Green forage cap

+0.02 Strength (per level)
+0.026 Mobility (per level)

+0.48 Dodging (per level)
+0.54 Swimming (per level)
+0.46 Aiming (per level)

Brown forage cap

+0.02 Dexterity (per level)
+0.02 Mobility (per level)
+0.02 Charisma (per level)

+0.55 Stamina (per level)
+0.55 Fine Motor Skills (per level)
+0.54 Trading (per level)

Black forage cap

+0.02 Strength (per level)
+0.02 Dexterity (per level)
+0.02 Mobility (per level)
+0.02 Charisma (per level)

+0.44 Construction (per level)
+0.48 Reflex (per level)
+0.44 Animal Instincts (per level)

Fancy forage cap

+0.02 Strength (per level)
+0.02 Dexterity (per level)
+0.02 Mobility (per level)
+0.02 Charisma (per level)

+0.55 Toughness (per level)
+0.51 Horseback Riding (per level)
+0.54 Tactics (per level)
+0.54 Appearance (per level)

William Travis' forage cap

+0.026 Strength (per level)
+0.026 Dexterity (per level)
+0.026 Mobility (per level)
+0.026 Charisma (per level)

+0.55 Hiding (per level)
+0.56 Setting Traps (per level)

Grey silk cylinder

+0.02 Strength (per level)
+0.01 Dexterity (per level)
+0.01 Mobility (per level)
+0.01 Charisma (per level)

+0.51 Vigor (per level)
+0.54 Repairing (per level)

Yellow silk cylinder

+0.01 Dexterity (per level)
+0.01 Mobility (per level)
+0.02 Charisma (per level)

+0.56 Swimming (per level)
+0.56 Aiming (per level)
+0.56 Leadership (per level)

Blue silk cylinder

+0.02 Dexterity (per level)
+0.01 Mobility (per level)
+0.01 Charisma (per level)

+0.56 Stamina (per level)
+0.56 Dodging (per level)
+0.56 Shooting (per level)

Green silk cylinder

+0.01 Dexterity (per level)
+0.02 Mobility (per level)
+0.01 Charisma (per level)

+0.56 Health Points (per level)
+0.56 Reflex (per level)
+0.56 Fine Motor Skills (per level)

Brown silk cylinder

+0.026 Strength (per level)
+0.02 Dexterity (per level)
+0.02 Mobility (per level)
+0.02 Charisma (per level)

+0.57 Hiding (per level)
+0.56 Setting Traps (per level)

Black silk cylinder

+0.02 Strength (per level)
+0.02 Dexterity (per level)
+0.02 Mobility (per level)
+0.02 Charisma (per level)

+0.39 Construction (per level)
+0.54 Horseback Riding (per level)
+0.51 Tactics (per level)

Fancy silk cylinder

+0.02 Strength (per level)
+0.02 Dexterity (per level)
+0.026 Mobility (per level)
+0.026 Charisma (per level)

+0.55 Toughness (per level)
+0.55 Repairing (per level)
+0.56 Trading (per level)

Nathaniel Bacon's silk cylinder

+0.026 Strength (per level)
+0.026 Dexterity (per level)
+0.026 Mobility (per level)
+0.026 Charisma (per level)

+0.44 Dodging (per level)
+0.44 Aiming (per level)
+0.56 Appearance (per level)

Grey wide brim hat

+0.02 Strength (per level)
+0.02 Dexterity (per level)
+0.02 Mobility (per level)
+0.02 Charisma (per level)

+0.54 Vigor (per level)
+0.51 Health Points (per level)

Yellow wide brim hat

+0.02 Strength (per level)
+0.02 Dexterity (per level)
+0.02 Mobility (per level)
+0.02 Charisma (per level)

+0.54 Reflex (per level)
+0.54 Swimming (per level)
+0.56 Animal Instincts (per level)

Blue wide brim hat

+0.02 Strength (per level)
+0.02 Dexterity (per level)
+0.02 Mobility (per level)
+0.02 Charisma (per level)

+0.54 Stamina (per level)
+0.56 Shooting (per level)
+0.54 Leadership (per level)

Green wide brim hat

+0.02 Strength (per level)
+0.02 Dexterity (per level)
+0.02 Mobility (per level)
+0.02 Charisma (per level)

+0.54 Construction (per level)
+0.56 Hiding (per level)
+0.54 Setting Traps (per level)

Brown wide brim hat

+0.02 Strength (per level)
+0.02 Dexterity (per level)
+0.02 Mobility (per level)
+0.02 Charisma (per level)

+0.42 Horseback Riding (per level)
+0.55 Fine Motor Skills (per level)
+0.51 Appearance (per level)

Black wide brim hat

+0.02 Strength (per level)
+0.02 Dexterity (per level)
+0.02 Mobility (per level)
+0.02 Charisma (per level)

+0.48 Health Points (per level)
+0.48 Dodging (per level)
+0.48 Aiming (per level)
+0.56 Tactics (per level)

Fancy wide brim hat

+0.026 Strength (per level)
+0.026 Dexterity (per level)
+0.026 Mobility (per level)
+0.026 Charisma (per level)

+0.56 Vigor (per level)
+0.56 Toughness (per level)
+0.55 Swimming (per level)

Benjamin Brown's wide brim hat

+0.026 Strength (per level)
+0.026 Dexterity (per level)
+0.026 Mobility (per level)
+0.026 Charisma (per level)

+0.55 Fine Motor Skills (per level)
+0.55 Repairing (per level)
+0.57 Trading (per level)

Grey wild leather hat

+0.02 Strength (per level)
+0.02 Dexterity (per level)
+0.02 Mobility (per level)
+0.02 Charisma (per level)

+0.54 Reflex (per level)
+0.56 Animal Instincts (per level)

Yellow wild leather hat

+0.02 Strength (per level)
+0.02 Dexterity (per level)
+0.02 Mobility (per level)
+0.02 Charisma (per level)

+0.56 Setting Traps (per level)
+0.56 Leadership (per level)
+0.56 Animal Instincts (per level)

Blue wild leather hat

+0.02 Strength (per level)
+0.02 Dexterity (per level)
+0.02 Mobility (per level)
+0.02 Charisma (per level)

+0.55 Horseback Riding (per level)
+0.56 Hiding (per level)
+0.57 Shooting (per level)

Green wild leather hat

+0.02 Strength (per level)
+0.02 Dexterity (per level)
+0.02 Mobility (per level)
+0.02 Charisma (per level)

+0.57 Stamina (per level)
+0.55 Dodging (per level)
+0.56 Aiming (per level)

Brown wild leather hat

+0.02 Strength (per level)
+0.02 Dexterity (per level)
+0.02 Mobility (per level)
+0.02 Charisma (per level)

+0.46 Vigor (per level)
+0.48 Tactics (per level)
+0.56 Appearance (per level)

Black wild leather hat

+0.02 Strength (per level)
+0.02 Dexterity (per level)
+0.02 Mobility (per level)
+0.02 Charisma (per level)

+0.46 Health Points (per level)
+0.48 Swimming (per level)
+0.56 Fine Motor Skills (per level)

Fancy wild leather hat

+0.026 Strength (per level)
+0.026 Dexterity (per level)
+0.026 Mobility (per level)
+0.026 Charisma (per level)

+0.56 Toughness (per level)
+0.56 Reflex (per level)
+0.56 Repairing (per level)

Samuel Clemens' wild leather hat

+0.026 Strength (per level)
+0.026 Dexterity (per level)
+0.026 Mobility (per level)
+0.026 Charisma (per level)

+0.56 Construction (per level)
+0.54 Hiding (per level)
+0.51 Setting Traps (per level)

Grey denim hat

+0.55 Stamina (per level)

+0.56 Horseback Riding (per level)
+0.56 Shooting (per level)
+0.55 Trading (per level)

Yellow denim hat

+0.02 Strength (per level)
+0.02 Dexterity (per level)
+0.02 Mobility (per level)
+0.02 Charisma (per level)

+0.57 Swimming (per level)
+0.44 Setting Traps (per level)
+0.48 Leadership (per level)
+0.56 Animal Instincts (per level)

Blue denim hat

+0.02 Strength (per level)
+0.02 Dexterity (per level)
+0.02 Mobility (per level)
+0.02 Charisma (per level)

+0.57 Toughness (per level)
+0.44 Health Points (per level)
+0.56 Aiming (per level)
+0.48 Tactics (per level)

Green denim hat

+0.02 Strength (per level)
+0.02 Dexterity (per level)
+0.02 Mobility (per level)
+0.02 Charisma (per level)

+0.44 Health Points (per level)
+0.57 Reflex (per level)
+0.56 Dodging (per level)
+0.48 Fine Motor Skills (per level)

Brown denim hat

+0.02 Strength (per level)
+0.02 Dexterity (per level)
+0.02 Mobility (per level)
+0.02 Charisma (per level)

+0.48 Vigor (per level)
+0.56 Hiding (per level)
+0.55 Repairing (per level)

Black denim hat

+0.026 Strength (per level)
+0.026 Dexterity (per level)
+0.026 Mobility (per level)
+0.026 Charisma (per level)

+0.56 Shooting (per level)
+0.56 Appearance (per level)

Fancy denim hat

+0.026 Strength (per level)
+0.026 Dexterity (per level)
+0.026 Mobility (per level)
+0.026 Charisma (per level)

+0.57 Horseback Riding (per level)
+0.57 Swimming (per level)
+0.57 Setting Traps (per level)

Texas Jack's denim hat

+0.026 Strength (per level)
+0.026 Dexterity (per level)
+0.026 Mobility (per level)
+0.026 Charisma (per level)

+0.44 Stamina (per level)
+0.56 Leadership (per level)
+0.57 Trading (per level)

Grey cavalry hat

+0.02 Strength (per level)
+0.02 Dexterity (per level)
+0.02 Mobility (per level)
+0.02 Charisma (per level)

+0.57 Construction (per level)
+0.55 Animal Instincts (per level)

Yellow cavalry hat

+0.02 Strength (per level)
+0.02 Dexterity (per level)
+0.02 Mobility (per level)
+0.02 Charisma (per level)

+0.56 Toughness (per level)
+0.56 Dodging (per level)
+0.56 Repairing (per level)
+0.56 Tactics (per level)

Blue cavalry hat

+0.02 Strength (per level)
+0.02 Dexterity (per level)
+0.02 Mobility (per level)
+0.02 Charisma (per level)

+0.56 Stamina (per level)
+0.56 Aiming (per level)
+0.56 Shooting (per level)
+0.56 Trading (per level)

Green cavalry hat

+0.02 Strength (per level)
+0.02 Dexterity (per level)
+0.02 Mobility (per level)
+0.02 Charisma (per level)

+0.56 Vigor (per level)
+0.56 Health Points (per level)
+0.56 Reflex (per level)
+0.56 Fine Motor Skills (per level)

Brown cavalry hat

+0.02 Strength (per level)
+0.02 Dexterity (per level)
+0.02 Mobility (per level)
+0.02 Charisma (per level)

+0.57 Horseback Riding (per level)
+0.54 Leadership (per level)
+0.55 Animal Instincts (per level)

Black cavalry hat

+0.02 Strength (per level)
+0.02 Dexterity (per level)
+0.02 Mobility (per level)
+0.02 Charisma (per level)

+0.57 Construction (per level)
+0.54 Toughness (per level)
+0.55 Repairing (per level)

Fancy cavalry hat

+0.026 Strength (per level)
+0.026 Dexterity (per level)
+0.026 Mobility (per level)
+0.026 Charisma (per level)

+0.57 Construction (per level)
+0.56 Swimming (per level)
+0.56 Trading (per level)
+0.56 Animal Instincts (per level)

George Custer's cavalry hat

+0.026 Strength (per level)
+0.026 Dexterity (per level)
+0.026 Mobility (per level)
+0.026 Charisma (per level)

+0.51 Dodging (per level)
+0.42 Aiming (per level)
+0.56 Tactics (per level)
+0.56 Appearance (per level)

Winter hat

+0.02 Strength (per level)
+0.02 Dexterity (per level)
+0.02 Mobility (per level)
+0.02 Charisma (per level)

+0.56 Hiding (per level)
+0.56 Repairing (per level)
+0.57 Trading (per level)
+0.57 Animal Instincts (per level)

R.A.M.B.O's Red headband

+0.38 Construction (per level)
+0.38 Leadership (per level)
+0.38 Repairing (per level)
+0.37 Vigor (per level)

Valentinus' leather hat

+0.38 Aiming (per level)
+0.37 Dodging (per level)
+0.31 Stamina (per level)
+0.37 Hiding (per level)


Iron-clad chest contained a wrong item
The chest contained Instructions: Sew a travel bag instead of Instructions: Create gem-studded saddle pommel. The wrong item was removed, while the expected one was added to the chest.

Uncommon Independence Day Chest
The chest had an incorrect item in its drop list. James Marshall's Gold Belt was removed from the chest.

Johnny Ringo's saddle was upgradable
The saddle of the free set of Easter event 2021 was upgradeable, when it shouldn't be as the set can be obtained only once.


We hope you like the changes this update brings to the game. As always we are looking forward to your feedback!

Best regards,
Your The West Team