Town REBIRTH - now recruiting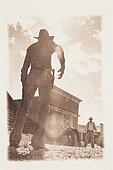 Our Town is being rebuilt from the ground up , it has a long history and we hope to carry on those age old traditions and victories.
We are looking for players of any level who wish to become Fort Fighters or Duellers.
What we offer you:
Upon joining our town you will find youselves in the Coronado Family , we have the best Generals , Fort Fighters and Duellers in Briscoe.
With a wealth of experience and knowledge the family will help you grow into one of The Wests finest!
All advice/training needed for quests, gear ,forts or duelling will be given, whatever your level plus many family incentives and promotions for good performance.
Your commitment to us:
Activeness
- this is the key to our strength and your growth
Loyalty
- you fight for your family , you die for your family
Code of conduct
- There is a family code of conduct upheld at all times, be respectful to your fellow family and dont call people names , you be fine.
Simply point your local pony express to:-
Town: Rebirth
Contacts: Mighty Med , Kalimasx
Many thanks and see you soon!
Last edited by a moderator: