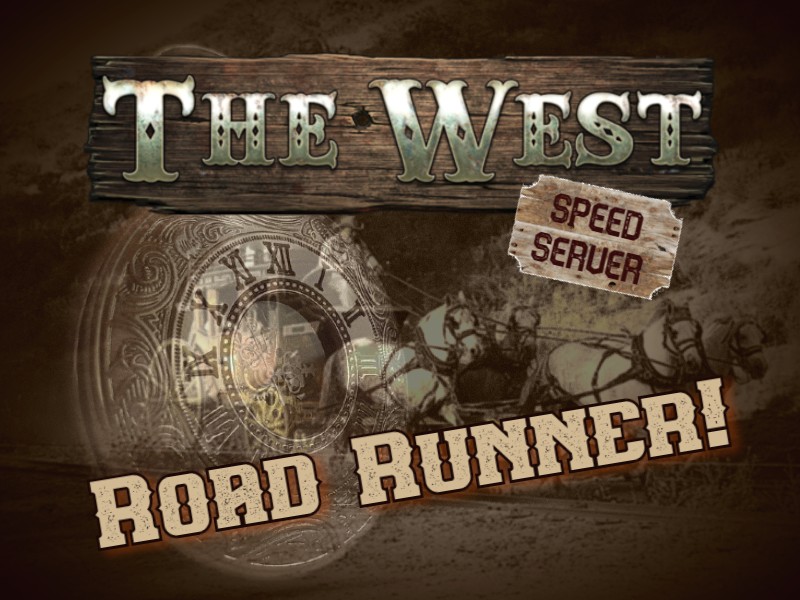 Howdy Cowboys and Cowgirls
Cowboys and Cowgirls, the time has come for you to prove yourself in our upcoming speed server event,
Road Runner
! Over the course of
28 days
, you will have the chance to compete against your fellow players in captivating and exciting adventures. We have some extra special bonuses to ensure all of you road runners go full speed ahead throughout the month and achieve the best that you can.
Good lu.... oh wait, that's not all, we also have awesome rewards for the best road runners for a range of different areas - so whether you will be a dueler, a crafter or simply passing through, we wish you the best of luck and we hope you have fun!
For those who do not know, it is a world very different from the rest and essentially a road race for all players since the top of several rankings will receive special gifts and rewards.
First the characteristics of the world below:


General Rules:
Opening: 28/06/2021 - 15:00 (server time)
Closure: 26/07/2021 - 04:30 (server time)
All the standard rules are applied to this server;
Free money transfer is disabled;
The server is opened to Everyone, NO pre-registration required.
Settings:
+ 500% money from jobs
+ 1000% luck in jobs
+ 1000% chance of finding
+ 400% speed
+ 1000% energy recovery
+ 150% duel motivation
+ 150% work motivation
+ 1000% Health regeneration
+ 500% work experience for levels from 1 up to 120
+ 1250% work experience for levels from 121 up to 150
Note: 100% is the standard value.
Now The Rewards

Experience Ranking:
1500 Nuggets & El Gringo set
1000 Nuggets & 1 El Gringo or Gonzales item
500 Nuggets & 1 El Gringo or Gonzales item
300 Nuggets
200 Nuggets
Crafting Ranking:
1. 300 Nuggets & 2 El Gringo or Gonzales item
2. 200 Nuggets & 1 El Gringo or Gonzales item
3. 100 Nuggets & 1 El Gringo or Gonzales item
Duel Ranking:
1. 200 Nuggets & Gonzales set
Builders
The members of the town where the town came out first will receive 250 bonds each.
The Biggest town in points will get 50 Nuggets per member - MAX 10 members from this town - If more, a lottery for the winners will be drawn. -> If more players would be in the town, the winners will be drawn at random.
---------------------------------------------------------------------------------------------------------------------------------------------------------------
When all of this is over, you can claim your rewards in any world of your choice.
Write to support after the event to claim your prize, if you think you have won ;-)
That's all folks! Let us know your feedback
here
and have fun!
Your The West Team
Note: This is a temporary server, all the data will be permanently deleted at the end. Every rule violations, precisely, multi-accounting or bot-using, will be punished with a permanent ban and with the banishing from the final ranking. Rules, settings, and description of the server can be changed by the moderation team at any moment.
Last edited: