The West Team
Community Manager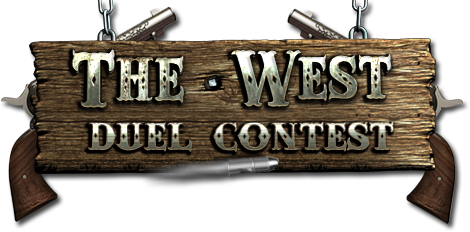 Last time we participated in the Gold Rush, it was a really exciting and eventful time. Now it's time to gain some new experience! We've rested a bit, the dust has settled. We are ready to start a new, unpredictable, international event. What will it be connected with? We participated in Fort Battles Championship, tested ourselves during the Gold Rush. Now it's time for the International Duel Championship! It's a unique occasion to check ourselves in the duelers role. We need a lot of dodging and a bit of shooting, maybe you will choose another skills? Take your gun and enjoy the event!
Event stages
First stage (05.03.2019 until 12.03.2019 04:00)
This stage takes 7 days from when the server starts. During this stage you have to make your characters as strong as possible. You can take a part in fort battles, jobs, adventures , doing quests, building tows, duels with NPCs. The following bonuses will be active:
Money from Jobs:
500%
Experience Points from Jobs:
1000%
Luck at Jobs:
250%
Drop chance from Jobs:
500%
100% being the normal setting as you know it in our regular game.
It would help you to build characters.
The Second stage (12.03.2019 04:01 until 02.04.2019 23:59)
This stage takes 21 days and starts immediately after the first stage. Every activity that is not banned by the game's rules is allowed. You can attack every player on the server, except your town members. Extra bonuses from the first stage won't be available. After this stage the winners will be announced.
Winners categories:
1st place in dueling ranking
1st place:
2000 Nuggets + special piece of avatar
2nd place:
1500 Nuggets + special piece of avatar
3rd place:
1000 Nuggets + special piece of avatar
The biggest positive difference between won and lost duels.
1st place:
500 Nuggets
Town with the most of duel points
500 bonds
for every town member
All current Game Rules apply to the event server. This includes Data Protection Provisions and General terms and conditions. Any rule violations, including communication violations will be treated as if you were playing on your home server.
If you have been permanently banned due to a very serious infraction, you do not have the opportunity to return to the event. With an event, a rule violation can cause irreversible damage and allowing you back into the game will be seen as 'unfair' towards the rest of the players participating in the event. You may appeal the ban, and a detailed explanation will be provided.
Communication: You may use your own language in town profiles, fort profiles, your own profiles etc... We would like to urge you to use English in the Saloon chatrooms as this is a public room and we would like everyone to understand what is said in these rooms.
You are not forced to join a town, but remember that characters without a town can't attack others.
Alliances are allowed, but they yield no prizes in this event.
You can win in more than one category.
The PvP championship will be a non full Premium World. The following premium features will be available:

Automation
Character bonus
Energy
Regeneration
Money bonus
Speed bonus
Expressdelivery and Expresssell (To buy and sell items to the town shop, if you are not in town)
Halvewaytime
Marketdelivery (Bought items on the market can be fetched everywhere on the map)
VIP bonus

Fort Battles, adventures, jobs, quests are allowed, but they yield no prizes in this event.
The Travelling Fair and events will be deactivated.
If you are knocked out, you will not be able to cancel the duel protection for 8 hours. The protection expires after 24 hours. (24 and 72 would be usual on you worlds)


You will be able to buy items from the town shops in four Gamemaster towns all over the map. These town shops will offer most of the items useful for duels.


Because this is a special event you will be allowed to knock out yourself in duels as a tactical component.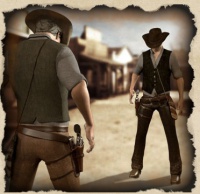 ​
FAQ
Will the towns be built before the event starts?
No, you have to build the towns yourself. Only the Gamemaster towns will be build.
Can I leave a town?
Yes, you can.
Will I get any clothes for the event?
No, you will only have clothes, animals, weapons from the town's shops, Union Pacific Shop and quests.
How can I take part at the event?
When the event starts you will be able to create a account and login on the following event server: https://events.the-west.net/
Therefor choose the world called "Smoking guns".
​
Your The West Event Team