Idea title:
Number in Inventory (X)
Details of idea:
There's a awesome little feature when I access my wandering trader or anystore in any town that tells me, when I hover my mouse over an item, how many of this item I have in my inventory. It's awesome because helps me avoid buying items I already own. It is SO AWESOME that it really should be available all of the time. This information should also be displayed when we access the Market and the Union Pacific Store. It would be REALLY cool if it could also be displayed for '[item=123]' posted in the chat window or in the forums.
Visual Aid: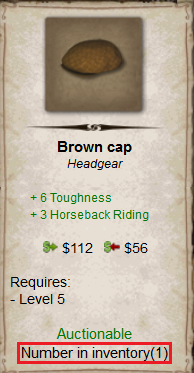 Reasons for submitting:
This is a really cool feature that already exists. It should be everywhere in the game. Making this function global for players will only enhance the cool factor of this game.
I searched the forum and could find no other submissions of this idea.