This thread is for frequently asked questions and is not a catchall for fort questions. Only post if you have a suggestion of another question to add and have an answer, or if you have a clarification or correction to one of the already posted answers.

Any new questions will be deleted.
For Fort Battle Info: HotnSexy's Guide to Fort Battles

Frequently asked Fort Questions:
Q. I share an internet connection with someone else that plays The West. Are we allowed to be in the same fort battle together?
A. Yes.
​
Q. When you unlock a buildings next level you have to have a set of materials/resources to build it. Do they measure thes items per building period of two hours? If i build the Gates level two, i need two iron, one wood and two barbed wire. What happens if I fall short of 200 cp's and have to add another building session? Do I need these items again?
A. Resource requirements are shown for one hour of construction. When building for 30 minutes, half the resources shown are used, rounded up. For the example of level 2 gates asked in the question, 30 minutes would use one iron, one wood, and one barbed wire. For buildings that require resources, they're used every time you build. If you fall short, you'll need more resources to build again.​
Q. Why didn't my building points carry over to the next level of the building?
A. Due to buildings requiring products to manually unlock them before you can access the next level, building points do not carry over. This is true even of the Resource Stock.
​
Q. Why can't I invite other towns into the fort or write a fort profile?
A. You have to be a founder of the founding town. In other words, if you don't wear a black hat in the town that founded the fort you can do neither of these things.
​
Q. How does my town attack a fort? Can I cancel an attack?
A. To attack a fort you have to meet the minimum requirements to own that size fort and have enough cash in your town treasury to pay for the attack. Travel to the fort you want to attack then click on the icon in the bottom right of the screen. Battle will begin 24 hours after you do this. You can not cancel a battle once you have done this.
​
Q. My fort is under attack. How do I know who ordered it?
A. In the Fort Overview tab where your fort battle is listed hover over where it says Fort Battle and the time. It will list the player and town that ordered the attack.
​
Q. What skills are used in fort battles?
A. The chance to hit depends on leadership, aim and hide (defender) or stamina (attacker).
The chance to dodge depends on leadership, dodge, hide (defender) or stamina (attacker).
The hit and dodge values are also modified by distance to your enemy and your position, currently only towers, walls and buildings increase your chances, but there'll be other sectors that use skills to determine boni which bonuses you can see by moving your cursor over the sector before the battle starts, including the class bonuses for towers. The first post showed a tactics map, however that one is several months old and won't be used that way, but it should give an idea how it might be used later.

Appearance and Tactics plays no part in fort battles.
​
Q. Can I use a regular weapon to fight in fort battles?
A. No. You must use a fort gun. You can puchase fort weapons in your towns Gunsmith or find them on jobs. Fort weapons are left handed weapons. It doesn't matter if you are Ranged or Melee. There is no skill to increase or decrease damage, your weapon does damage according to its listed damage range. You can not use a fort weapon in a regular duel. Fort guns are only for fort battles.
​
Q. My regular dueling weapon has an Aim bonus. If I have that equipped does that bonus count in fort battles?
A. Yes. A dueling weapon is just another item like a hat or boots in fort battles. If your dueling weapon has a skill bonus that is relevant to fort battles that bonus will be factored in.
​
Q. How many towns can I invite into my fort? Can I transfer fort leadership to another town?
A. Small = 1, Medium - 2, Large = 3. You can not transfer leadership to another town, even if that town belongs to your fort. If you leave the fort, ownership will be transferred to the next town in line that meets the minimum point requirements for that size fort. You can then be invited back to the fort if desired.
​
Q. How many people can participate in a fort battle?
A. 128 for each side. You do not have to be online during the battle but you must sign up and pick a side anytime in the 24 hours before the battle begins and you must be at the fort when the battle begins. You can go off and do other things in the meantime, just as long as you are back at the fort at the scheduled time.

As of 1.23, the number of attackers and defenders depends on the size of the fort.

Small: 50 attackers / 42 defenders
Medium: 100 attackers / 84 defenders
Big: 140 attackers / 120 defenders
​
Q. How many forts can my town have?
A. As many as they want. There are no restrictions on how many forts one town can have or belong to.
​
Q. If I don't belong to a town can I participate in a fort battle?
A. No you can not.
​
Q. I accidentally deleted the report inviting me to the fort. I haven't rejected the invitation. Can I find the invitation in another place?
A. Look under "Fort overview", you should see the option to join the fort there.​
Q. Who can start a fort battle?
A. Founders and counselors from your town can initiate a battle against an enemy fort.
​
Q. What should I do to take part in a battle?
A. Go to the fort in question. Once there, click on the blue round button "To arms!". Select the side you want to fight for (Attack or Defend - depending on your affiliation, only one of this option might be available). Select your battle position and your initial order (target location). If you leave the fort, make sure you return before the battle starts. If you own the fort, sleeping in the barracks is will not affect the participation in the battle. Every scheduled job/sleep/walk is canceled once the battle starts if you are at the fort location. If you can, be online when the battle starts. You will be able to choose another target location between rounds.

​
Q. What happens if I get KO'd in a fort battle?
A. If you pass out during a fort battle, you are taken to your town's hotel to recover.
You lose your cash.
You lose your energy points.
You can be dueled during the next 48 hours.
You can duel other players during the next 48 hours.
Q. What do the headers mean in battle reports?
Apparently there's an issue with Google Chrome displaying the tool-tip on hovering, so here they are.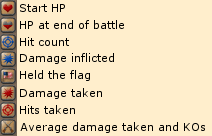 [Average damage taken should be damage given, i.e. average damage per hit.]
​
Q. Why are some of the players square and some rounded?
A. Players that belong to the fort being attacked or the fort that called for the attack are represented by a square icon. Outsiders have a rounded top for their icon. Players with a green dot in the upper left are online for the battle.
​
Q. Which towers are which?
A. NW - Dueler
SW - Advent
NE - Worker
SE - Soldier

NW - Adventurer
SW - Soldier
NE - Dueler
SE - Worker​
More questions will be added and answers edited as necessary.
Last edited by a moderator: